DuPage County Collaborative Law Divorce Attorney
Helping Divorcing Couples Find Solutions That Work
Stress-free Solutions for Illinois Families
Collaborative Law Divorce Attorney Denise Erlich Can Help You Design an Agreement that Suits Your Family's Needs
With more than 20 years of legal experience, collaborative law divorce attorney Denise Erlich understands that the end of a marriage doesn't always mean the end of relationships. She helps couples find creative solutions to resolve their disputes while preserving relationships and keeping families out of court.
What Is Collaborative Law Divorce?
Collaborative law divorce, also referred to as "collaborative divorce" in Illinois, is a process by which divorcing couples and their collaborative divorce attorneys work through conflicts outside the courtroom. You and your spouse will each hire a collaborative divorce lawyer, and your attorneys will bring in professionals like financial advisers, divorce coaches, and child specialists to complete your "collaborative law divorce team".
Rather than the traditional process, which often includes adversarial and invasive steps such depositions and discovery, your collaborative lawyer will negotiate on your behalf to achieve respectful and amicable solutions to the issues at hand.
Family Law Practice Areas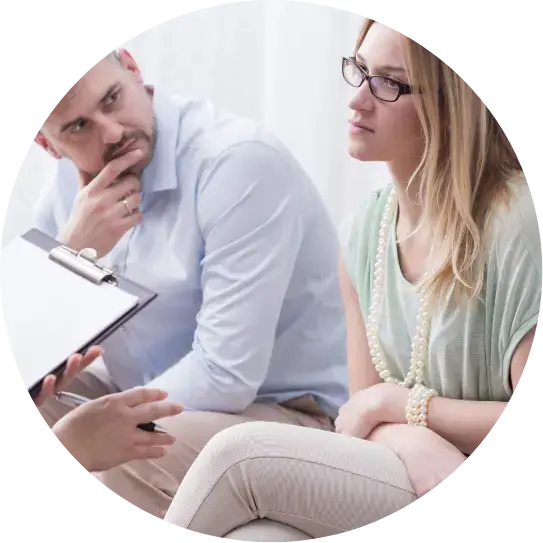 Find out more about how Illinois collaborative law divorce attorney Denise Erlich can help you dissolve your marriage without going to court. Call (630) 538-5331 today.
How Does the Collaborative Divorce Process Work?​
Before you begin a collaborative divorce, you and your spouse must sign a participation agreement. Signing means you both agree to use collaborative methods to resolve your disputes, you won't bring your case to court while the process is ongoing, and you understand that the process can be ended if certain conditions apply.
The collaborative divorce process does not involve hearings and court appearances, as does the traditional marriage dissolution process. Instead, discussions take place during a series of private meetings. The two parties, their collaborative divorce attorneys, and the rest of the divorce team discuss the needs and interests of each spouse, as well as those of any children.
In accordance with the collaborative principals, you and your spouse will work with your divorce team to attempt to resolve marital issues, such as spousal support, the division of your shared property, child custody and visitation, and child support.
When the disputes are resolved, the collaborative divorce attorneys will create a marital settlement agreement that must be signed by both spouses. The proposed settlement is then submitted to the judge for approval. If the judge decides that your settlement agreement is fair and reasonable, your final divorce decree will be issued. 
Benefits of a Collaborative Divorce
Not all divorces play out as the contentious battles portrayed on television, in movies, and in the tabloids. If you have little or no conflict in your divorce, or you wish to end your marriage amicably, collaborative divorce in Illinois offers an alternative option.
Some of the benefits of resolving your case through the collaborative divorce process include:
Collaborative divorce allows parents to shield their children from the turmoil and involvement in a custody battle that accompanies many traditional divorces. Decisions about child custody and parenting time schedules are reached through collaboration without your children's involvement.
Greater Control Over the Outcome of Your Case
Many decisions fall to family law judges or are based on state guidelines and criteria in traditional divorce cases. They don't reflect the unique needs of families. Through a collaborative divorce, however, you will work with your collaborative lawyer to achieve a solution that works for you and your family now, and as you move forward.
When going through the traditional divorce process, you will generally have to appear in court every 30 days or at court hearings as scheduled. In a collaborative divorce, you and your spouse will have the flexibility to schedule the collaborative meetings around what works for your schedules. No court appearances are necessary until the collaborative divorce is finalized with the court. In fact, in some counties, no court appearance is required to finalize the divorce.
Resolve Family Matters Privately
The collaborative divorce process allows you to manage your case in a more discrete manner. Issues that come up during your divorce are often personal and sensitive. Collaboration offers a private forum in which to settle your case.
What Is the Difference Between Collaborative and Mediation?
While they are both alternative dispute resolution options for couples who are going through divorce, collaborative differs from mediation in various ways. Mediation involves the assistance of an unbiased third-party, or trained mediator. The mediator cannot offer legal advice and will not advocate for either side. Instead, he or she will make recommendations based on the facts presented and evidence gathered.
 Collaborative does not involve a mediator. Instead, the divorcing couple, their collaborative law attorneys, and various professionals work together as a team to identify areas of conflict, present sustainable solutions, and help the couple agree on terms that work for their family.
Collaborative Divorce Attorney Denise Erlich Assists Illinois Families with the Following Types of Family Law Cases
Illinois divorce attorney Denise Erlich helps families in Cook County, Will County, DuPage County, and the surrounding counties resolve the following types of cases:
"Denise is a true professional. She helped me through a very complicated divorce including other legal concerns. She seamlessly navigated through many changes that started with a collaborative approach and then turned litigious. Denise is very responsive and helpful. She is also very fair in her rates and billing. I highly recommend Denise."
FAQs About Collaborative Divorce in Illinois
Collaborative divorce is an excellent option for some divorcing couples, but it does not suit every case. For example, high-conflict divorce cases and those involving domestic violence may not be best handled through collaborative divorce.
The time it takes to settle collaborative divorce cases depends on several factors. These include, but aren't limited to, the complexity of the issues to be resolved and your ability to work as a team to resolve your differences.
You still have the option to pursue a collaborative divorce after filing a divorce petition with the court. A collaborative divorce lawyer will aid you in pursuing a resolution via this path.
Family Law Practice Areas